4 Steps To Choosing The Perfect Cherry Blossom
4 Steps To Choosing The Perfect Cherry Blossom
- SIZE, SPACE, COLOUR & SHAPE
---
---
We can all agree that cherry blossom trees are rather special - that spectacular spring display is hard to beat, the autumn colours are outstanding and there seems to be a variety to suit every possible size of garden. The biggest problem with cherry blossom is figuring out which tree to choose - the Flower Association of Japan recognises over 300 species, varieties and hybrids! There are huge variations in size, form, colour and shape, and when choosing your cherry blossom, you may want to consider.
Luckily we're here to help with this handy four-step guide to help you choose the perfect tree.
---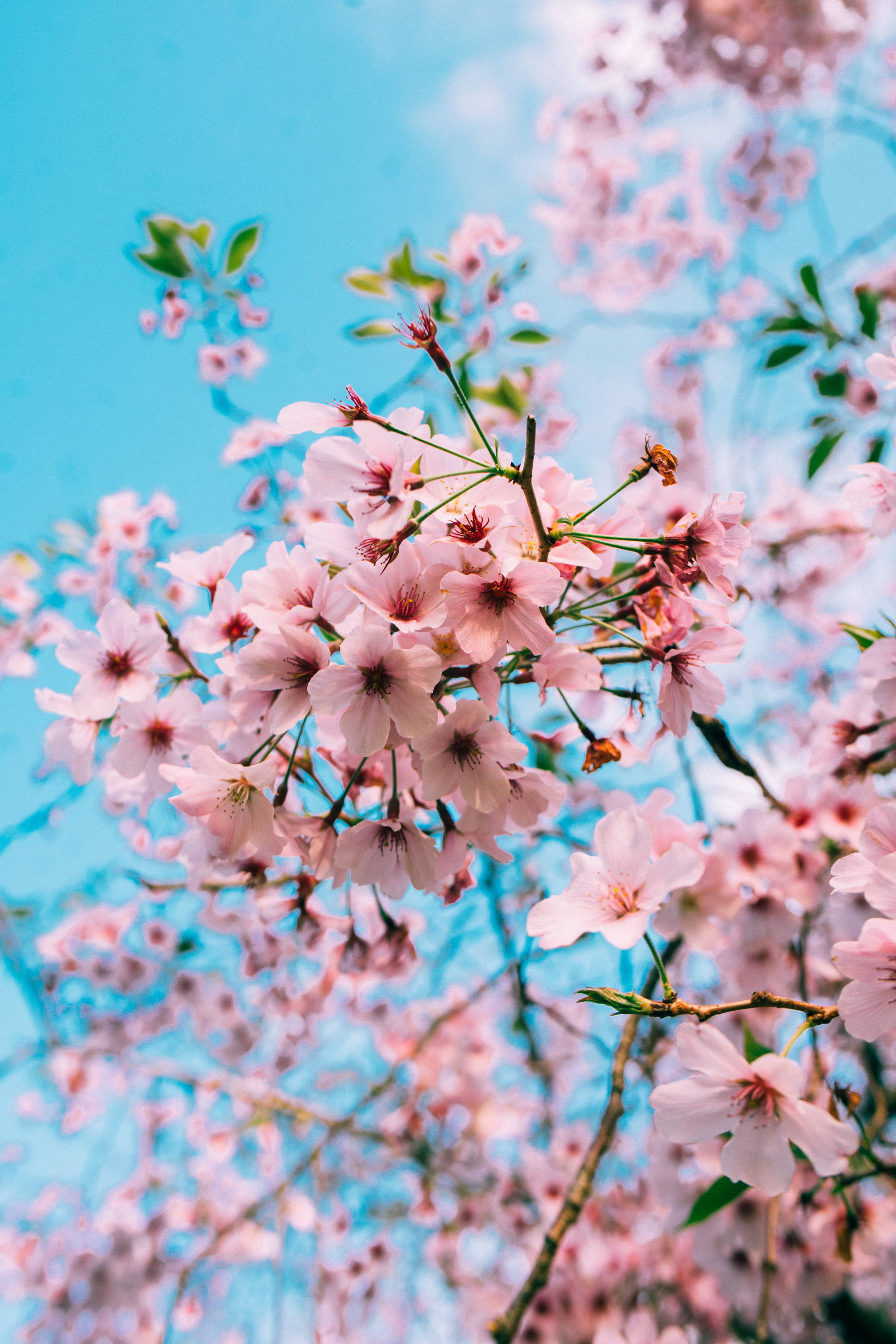 1. Size
How big do you want your tree to grow? The size of the cherry blossom you choose is dependent on how much space you have, and where you'd like to plant it.
UP TO 5M
If space is no object, go for a large, upright variety like Accolade, Amanogawa, Kanzan (pink) Pink Perfection, Royal Burgundy or Tai-Haku (White).
UP TO 3.5M
Coming in at a slightly more compact 2.5 -3.5m, these varieties are ideal for the medium sized garden: Autumnalis, Autumnalis Rosea, Tibetan Cherry, The Bride and Weeping Yoshino.
UP TO 2.5M
For smaller gardens we would recommend Kiku-shidare Zakura (also known as Cheal's Weeping), Collingwood Ingram or Albertii.
UP TO 1.5M
For pots or smaller spaces choose a variety like Kojo-No-Mai, Little Pink Perfection or the dwarf weeping variety Ivensii, which will all grow to a very compact size of less than 1.5m.
---
2. Shape
UPRIGHT OR VASE SHAPED TREES
Vase shaped trees have a central trunk with branches that sweep into an upright, arching shape that is widest at the top. Vase shaped cherry blossoms include Pink Perfection, Little Pink Perfection, Tibetan Cherry and Royal Burgundy. They're perfect for gardens and walkways because they allow headroom to walk or sit under them, while still providing shade. Upright trees have a less formal looking crown, with dense, spreading branches which are often hidden under clouds of blossom in the spring! Kanzan, Snow Goose and Plena are all examples.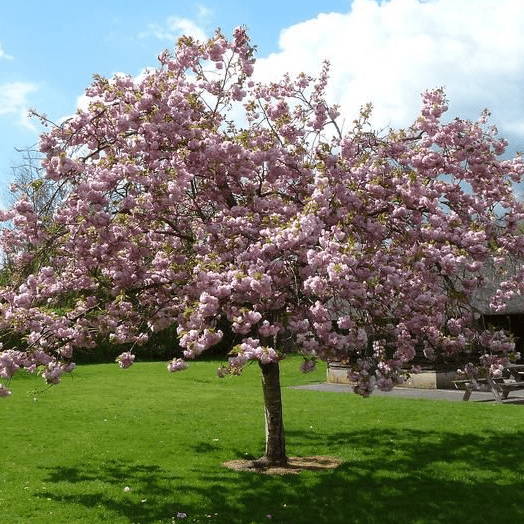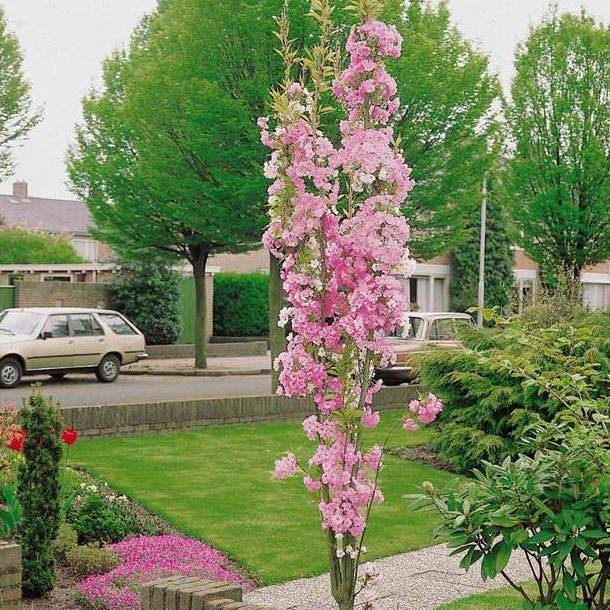 COLUMNAR OR FASTIGIATE TREES
If you're looking to fill a narrow space, you need a columnar tree. These are tall and very thin, with upright branches - for example, the 'flagpole' cherry blossom Amanogawa has a mature height of 3-5m with a width of under 1m, allowing you to plant several of them close together. Other columnar varieties include Crimson Pointe and Felix Jury.
UMBRELLA TREES
This is the classic cherry blossom shape, with high branches spreading to form a canopy - perfect for the Japanese custom of Hanami, in which people gather beneath the trees with friends, food and drink to admire the blossom.
Accolade, Autumnalis, Autumnalis Rosea, Kojo-No-Mai, Nigra, Tai-Haku, Shirofugen, The Bride and Yoshino are all classic Umbrella shaped trees.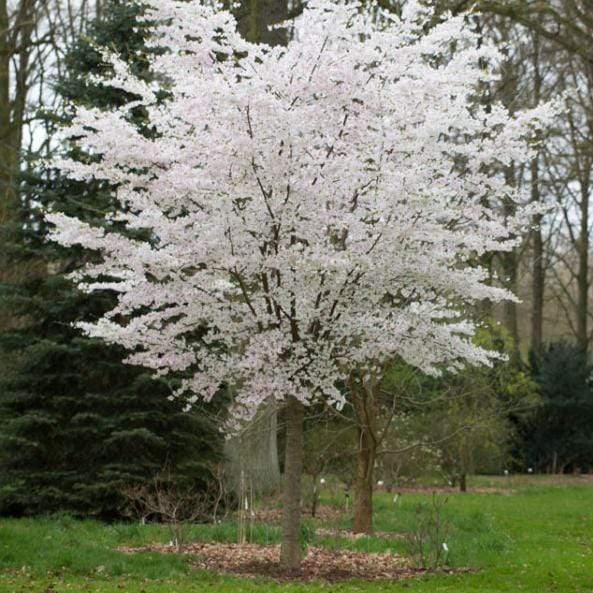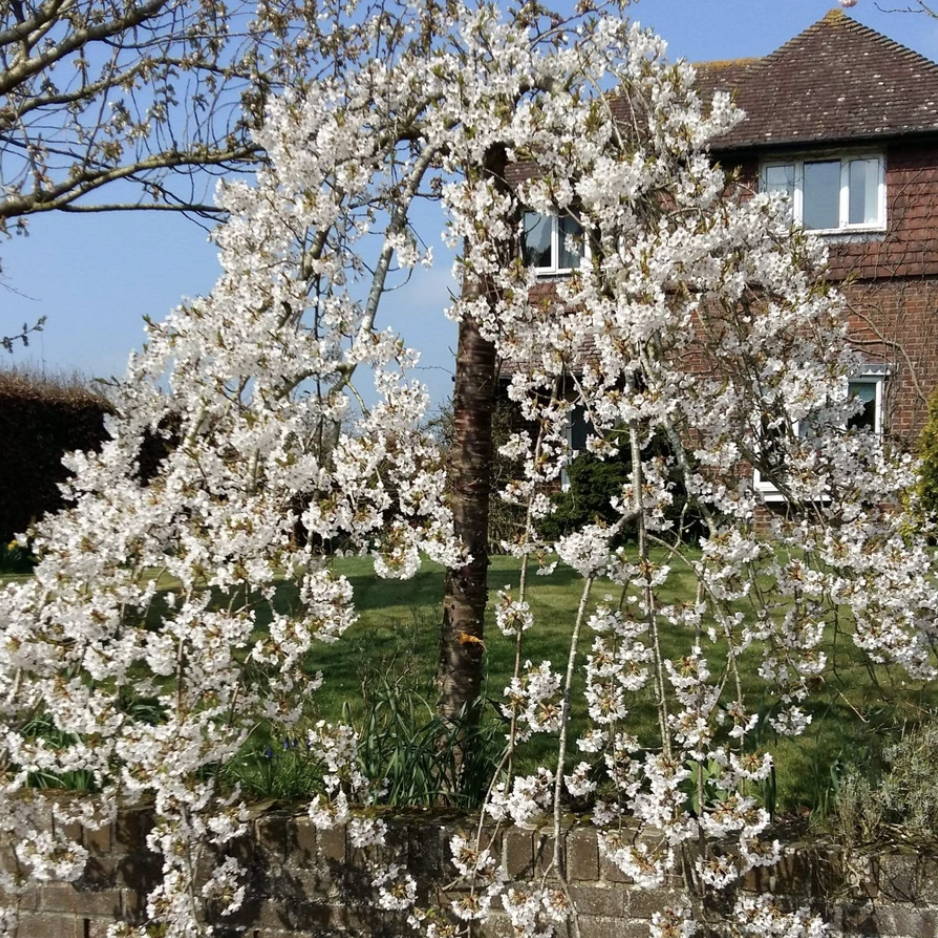 WEEPING TREES
Weeping trees have long, flexible branches that hang downwards - some reaching the ground. There are some beautiful weeping varieties of Cherry Blossom which will retain a compact form, making them easy to prune.
Kiku-Shidare-Zakura, Single Pink Weeping and Ivensii.
3. Flower Colour
Ornamental cherries have arguably the best blossom of any flowering tree, so you really can't choose badly. Their flowers have a wide range of tones from snow white to bright pink and often change throughout their flowering period. Many cherry blossom flowers start off dark pink and open to a lighter pink, then turn to pale pink or white as they mature. The Shirofugen variety even changes completely from white to pink throughout the season!
WHITE
Autumnalis, Kojo-No-Mai, Himalayan Cherry, Tibetan Cherry, Tai-Haku, The Bride, Blushing Bride, Yoshino
PALE PINK
Accolade, Amanogawa, Autumnalis Rosea, Kurilensis Ruby, Hokusai, Nigra
DARKER PINK
Kanzan, Kiku-shidare-zakura, Okame, Collingwood Ingram, Royal Burgundy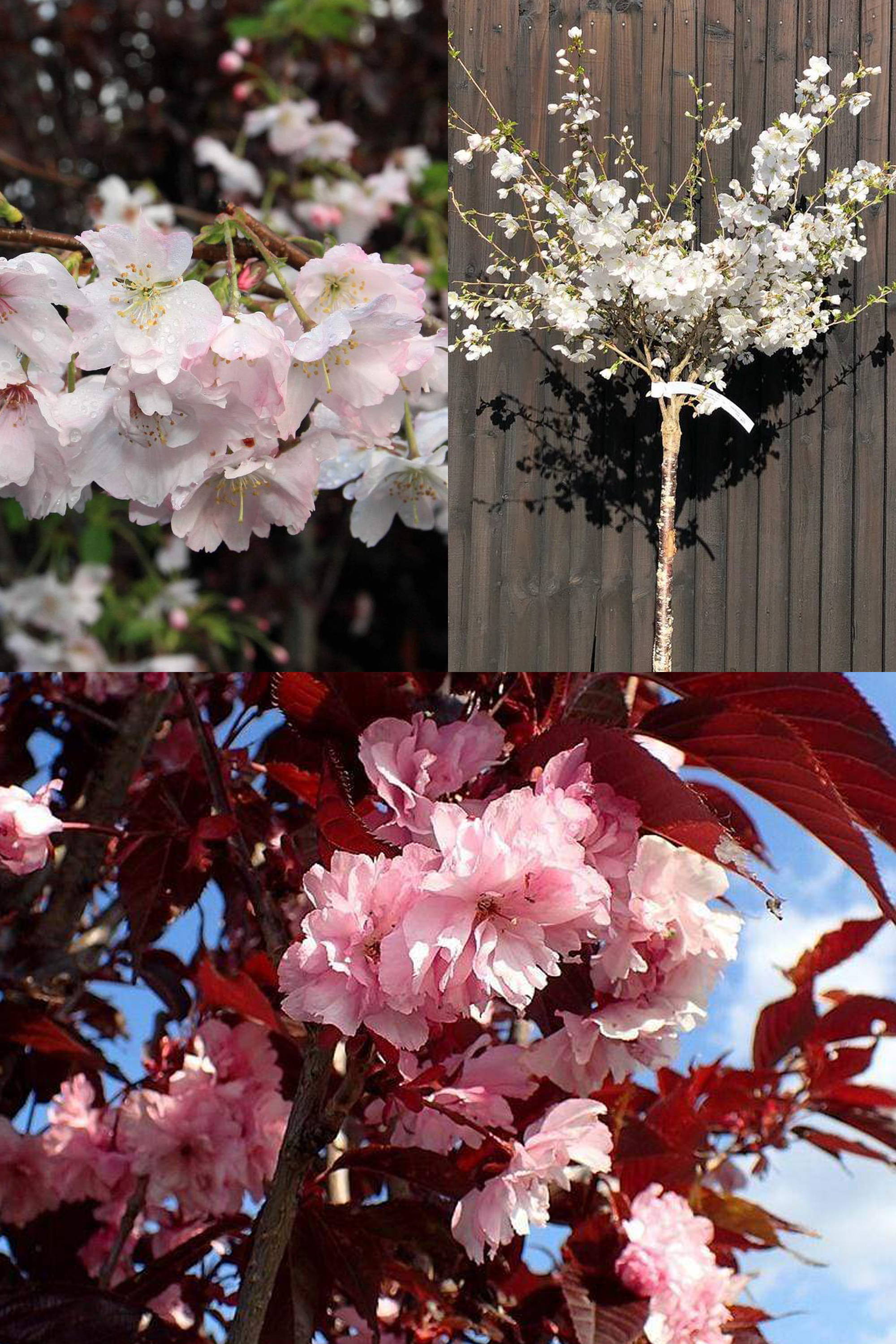 From L-R: Accolade, The Bride, Royal Burgundy
---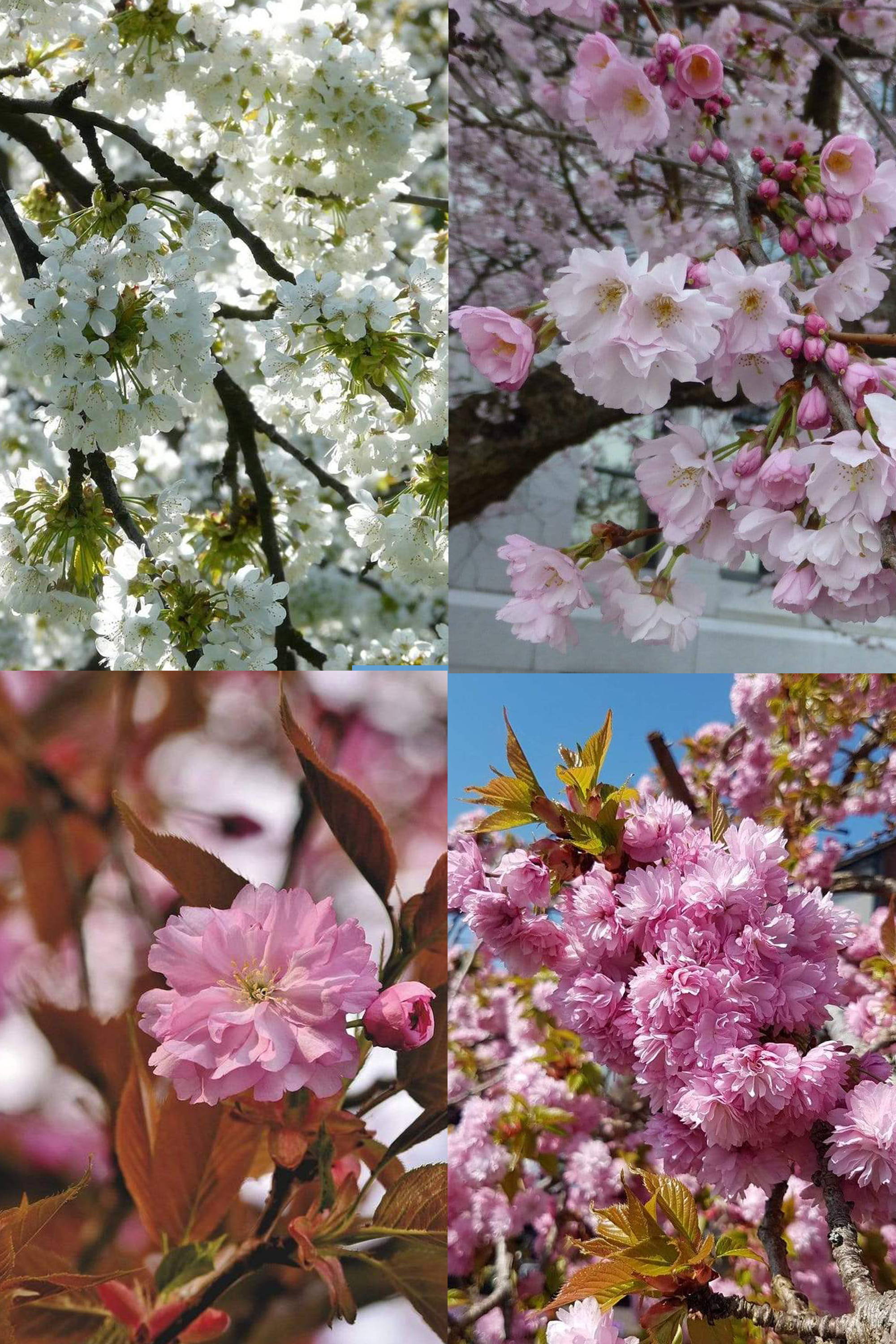 From L-R: Single, Semi, Double, Chrysanthemum
4. Flower Shape
There are four types of cherry blossom flowers, based on the number of petals they have. A flower can have anything from 5-300 petals in a single bloom! In Japan, the simpler forms are preferred, and the most popular cherry blossom variety is Yoshino, which has five petals per bloom.
SINGLE FLOWERS
Yoshino, Weeping Yoshino, Kojo-no-mai, Nigra, Himalayan Cherry, Tibetan Cherry, Snow Goose, Tai-haku, The Bride, Single Pink Weeping, Okame, Kurilensis Ruby
SEMI DOUBLE FLOWERS
Accolade, Amanogawa, Autumnlais, Autumnalis Rosea, Hokusai, Yukon
DOUBLE FLOWERS
Kanzan, Pink Perfection, Little Pink Perfection, Plena, Royal Burgundy, Shirofugen, Blushing Bride.
CHRYSANTHEMUMS
Whichever cherry blossom tree you choose, plant it in a sheltered spot with plenty of sunlight. Your cherry tree should produce its first blossom the spring after you plant it, and the display will get more and more impressive each year!