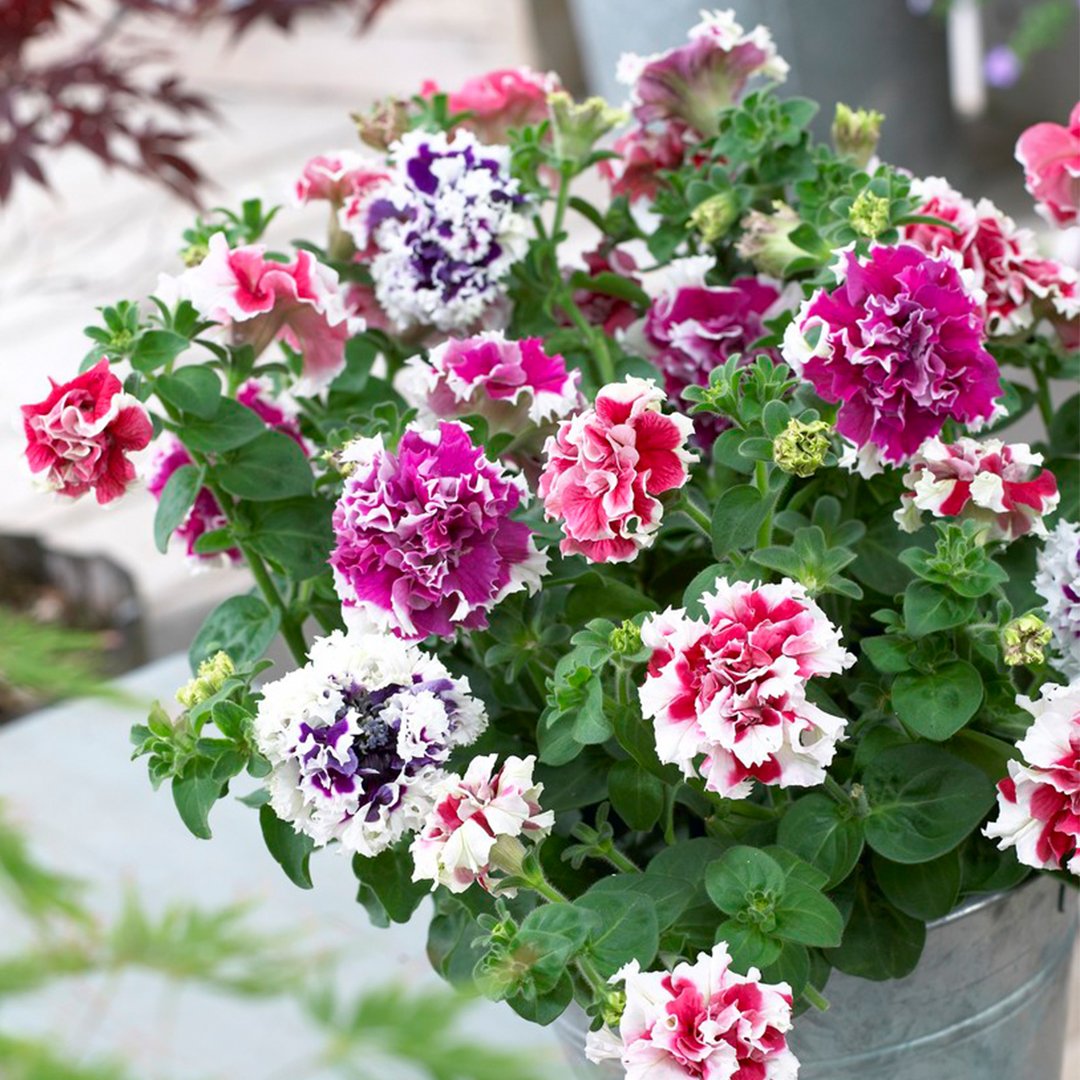 Best Plants for Pots & Containers
Brighten up your balcony or dress your doorway with the best summer container plants. One type of flower, or a selection of upright and trailing plants? A single colour or a riot of different shades? Whatever your choice, you need bedding plants that will flower all summer, so we've put together this handy guide to help you choose. And if you can't decide, go for our
Best Bedding Plants for Containers Collection
: talking point guaranteed.
Co-ordinated Pots and Containers
A single colour adds style to your garden design, and an all white or all blue planter can be stunning. You could run with a theme and choose flowers in a spectrum of shades: plant upright Osteospermum at the centre, surround with Petunia Pirouette and let Coral Verbena cascade over the edges for the perfect set of pinks and purples. Or turn heads with a multitude of Scarlet Geraniums.
Colourful Pots and Containers
Create an eye catching pot full of contrasting colour by starting with sunny Osteospermum in the centre, working your way out with these Magenta Dahlias and Orange Punch Calibrachoa and finishing with Waterfall Blue Lobelia trailing over the sides. For instant results, we've put together the most colourful displays in our designer collections - all you need is the pot and compost. Check out our Brilliant Bling and Sophistication instant designer containers - or why not mix it up with a different bold colour in each pot?
How to Care for your Container Plants
Pots and containers are ideal for paved courtyards, balconies and gardens with poor soil. Choose pots with holes in the bottom to allow drainage, fill with a compost designed for pots and feed weekly throughout the summer. Position them in full sun and deadhead regularly to encourage more flowers and you'll have beautiful displays all summer long.
40 Mixed Dahlia 'Figaro' Plug Plants
The perfect mix of double Dahlias
Early blooming double Dahlias in a bouquet of warm oranges, reds, yellows and whites
A compact bushy plant with large sunset-toned flowers, ideal for patio pots
Great value plug pack
Order now to secure delivery later in spring