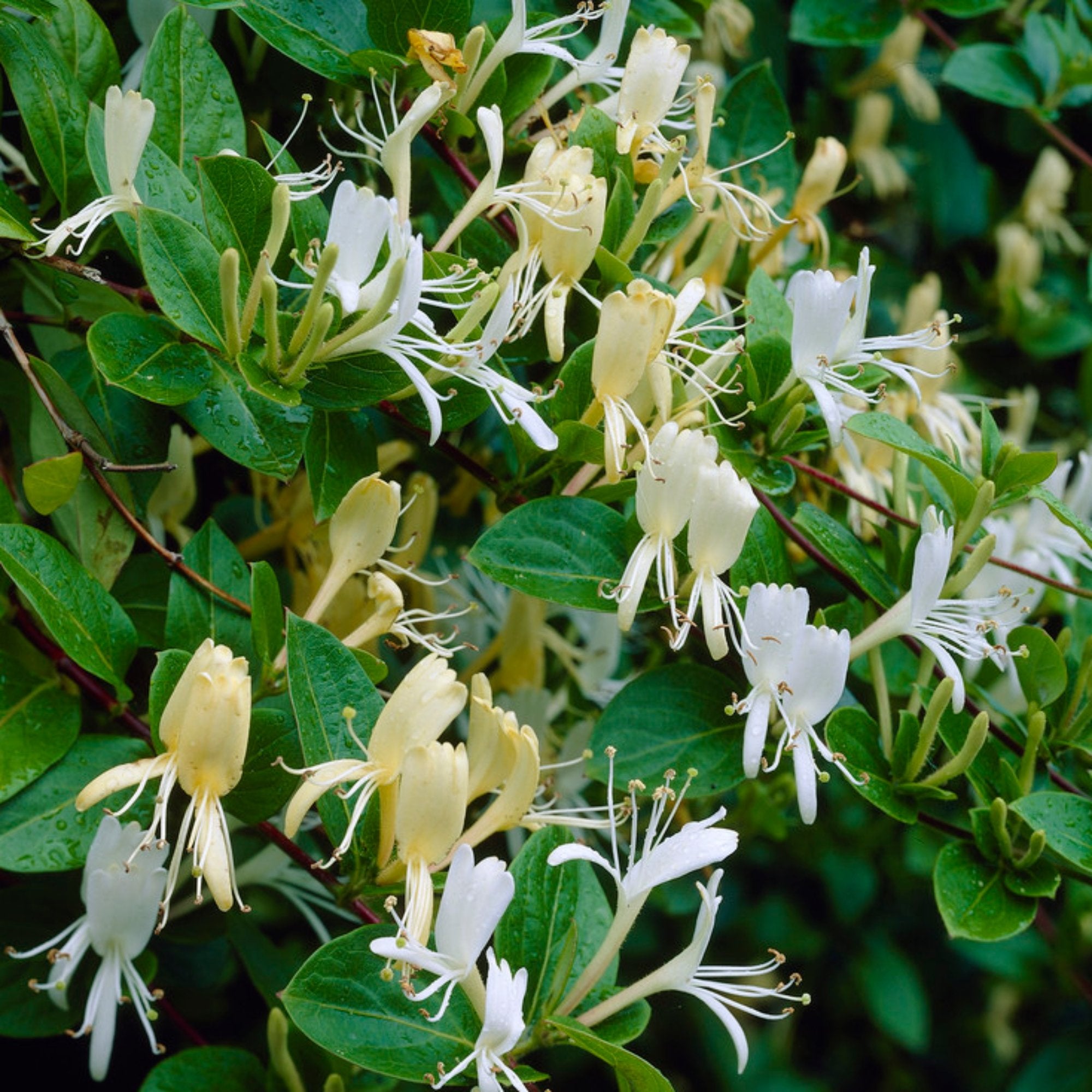 Honeysuckle Plants
Honeysuckle plants are vigorous climbers with clusters of deliciously scented flowers to attract the bees and butterflies in summer, followed by berries for the birds in autumn. Available in a variety of colours, they're a must for any garden arch, pergola or fence. Choose from creamy white, sunshine yellow or even scarlet - the lush green foliage comes as standard.
Which honeysuckle?
All honeysuckle vines have a fabulous scent - one of the best is RHS Award winning Serotina. Flower colours range from ivories and creams (GS Thomas, Mint Crisp) through golden yellows (Delavayi) to deep crimsons and purples (Dropmore Scarlet, Belgica). Most honeysuckles are deciduous (which means more prolific flowering), but for year-round colour, choose evergreen varieties like Halliana or Henryi.
Planting schemes and partners
My top choice to pair with honeysuckle is a bold coloured red or purple clematis. You could also twine two different honeysuckles together on a pergola or trellis for a double hit of that glorious heady perfume (a summer and a winter variety grown together will give you flowers for most of the year). Then of course there's the classic combo of honeysuckle and roses - perfect for a cottage garden. The scent grows stronger in a warm position: plant honeysuckle near a bench or path so you can enjoy it as you relax or walk past.
Growing tips
Honeysuckle are woodland plants, so they do best in a position with their roots in shade and their stems in the sun - a west facing wall or fence is ideal. These sturdy climbers need a strong support to climb up, such as a trellis or wire frame. Honeysuckle thrives in any well drained soil, and only needs regular watering during dry spells. To encourage flower production, feed with a general purpose fertiliser in spring. Honeysuckle does need pruning to maintain a neat shape, and this should be done after flowering.