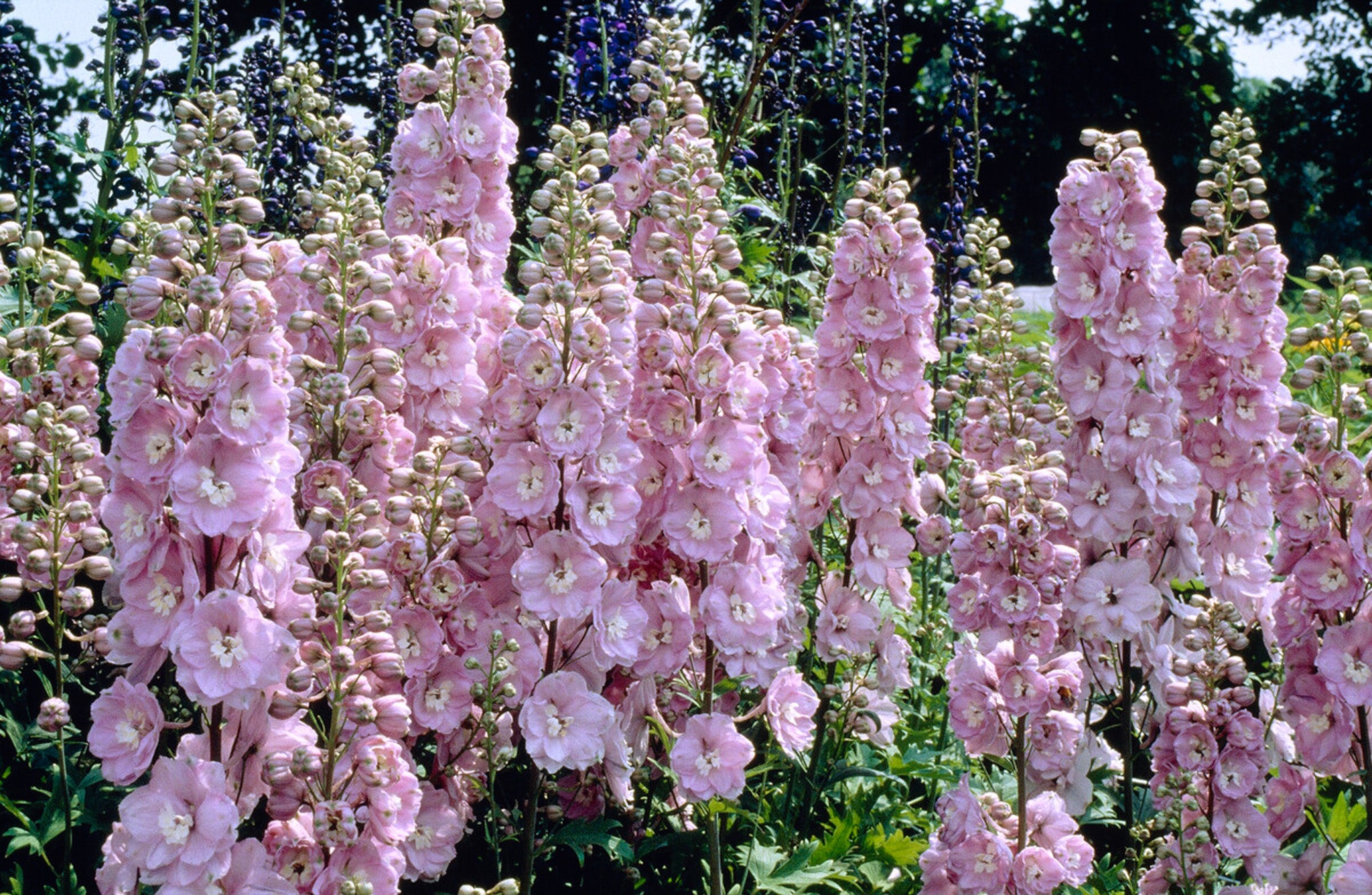 Delphinium Plants
Delphiniums are the cottage garden dream - tall spikes covered in blue, purple, pink or white flowers with continuous blooming throughout June and July. Plant them at the back of the border or even in patio pots. Enjoy the sight of the bees flitting in and out of the open flowers in the summer sun and don't forget to cut some for your vases!
Which delphinium?
Some delphinium varieties can grow up to 2m tall, so they're the perfect way to start building a perennial border. Plant them in groups of three to five or in large drifts at the back of a border or by a fence. Alternatively, plant a more compact variety such as Rose White Bee in pots - these grow to just 45cm tall and need no support.
Planting schemes and partners
It's not a cottage garden without delphiniums - but these striking plants also bring height, colour and structure to a city garden or small courtyard. They're also good to grow near your fruit and vegetables, as they attract pollinators. Delphiniums go well with roses, peonies and other tall plants such as foxgloves, lupins and alliums. We love them in pots on their own too!
Growing tips
For the best flowers, delphiniums need a sunny, sheltered position with well drained, fertile soil. They will also benefit from a weekly feed with a high potassium food such as tomato feed. Do watch out for slugs and snails when they're newly planted, as young plants can be a target of the slimy fiends. Taller delphinium varieties will need some support as they grow - tie them in gently to a garden cane or grow them against a fence. Top tip: once they've finished blooming, cut back your delphinium stems to encourage a second flush of flowers.
Delphinium 'Light Blue White Bee'
Sky blue with a white 'bee' centre
Loves a spot in full sun
Create height in containers and borders
Flowers June to August
Bigger and better dispalys ever year