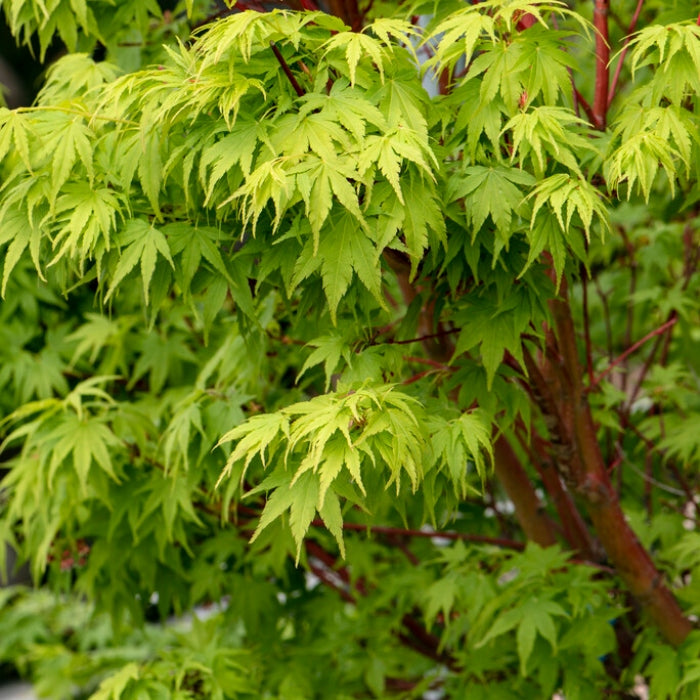 Acer Trees
Everyone loves an acer! With their distinctive five or seven pointed leaves and their graceful, spreading form, they're some of the most recognisable trees in the landscape. Naturally well shaped and slow growing, they have some of the brightest foliage and best autumn colour around and are surprisingly easy to grow. Our tree expert John has put together this collection of the best performing acers for every size of garden (or pot). They're slowly grown and nurtured in the South Downs, professionally pruned for a strong and healthy start, then sent fresh from the field to your patio.
Which acer tree is best for your garden?
Each acer has something uniquely beautiful about it. Red-leaved acers like Red Emperor are the most popular, and can really bring a burst of colour to your garden - especially when they're backlit by the late afternoon sun. Acer palmatum Fireglow provides a kaleidoscope of colour, with leaves emerging red-pink, maturing to deep green with a red blush and turning wine-red in autumn. For autumn colour with a full spectrum of oranges, reds and yellows, we think Acer palmatum Dissectum is the best small acer you can get, while Canadian Maple Acer rubrum is our pick for larger gardens. To find your perfect acer, read about our top picks for every garden.
What grows well with acers?
Acers are a must have in Japanese garden schemes. Plant them with cherry blossoms and katsura to continue the theme (they look even more striking when reflected in a traditional pond). Other small trees that pair well with acers are flowering dogwoods and Flamingo willows - all of these can be grown in small gardens and patio pots.
Growers' tips
For the best leaf colour, plant your acer in a sheltered position with plenty of morning sun and a little light shade in the afternoon. Acer trees thrive in any fertile, well drained soil and don't take a lot of pruning - just remove any damaged or diseased branches when the tree is in leaf or just after leaf fall. To grow an acer in a pot, plant it in a container that drains well and is at least twice the size of the root ball or the container your tree arrived in, repotting it every few years as necessary. Trees grown in pots will need more regular feeding and watering than those in the ground. Read our acer care guide for more expert advice.