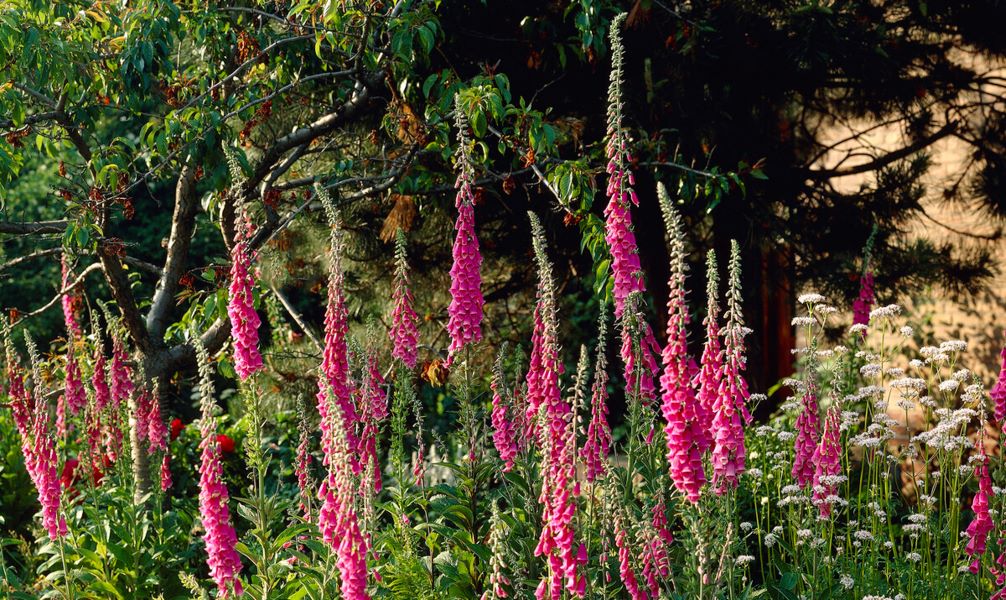 Foxgloves
Is it even summer without pollen-coated bees buzzing in and out of the Foxglove flowers? These hardy, shade-tolerant perennials are the perfect shape to attract garden bumblebees and carder bees. The tall, brightly coloured towers are a border favourite, flowering repeatedly from May to July, and also look great in pots.
Which foxglove?
Foxgloves can grow up to 2m tall (although most come in at around the 1m mark) so they're ideal for bringing height to the back of a border. More compact varieties are available, such as Pink Panther (40cm tall) which are better for a mid-border position or patio pots.
Planting schemes and partners
Plant your foxgloves in drifts or as vertical accents in groups of three - but bear in mind that the charm of a cottage garden is that a lot of the flowers - foxgloves included - will self seed and start to spring up randomly as a amongst other the plants. Embrace the randomness and enjoy the new plant combinations! Foxgloves are also a staple of woodland gardens and wildlife meadows, with perfect planting partners including poppies, lupins, achillea, verbena and roses.
Growing tips
Most foxgloves prefer dappled shade, and thrive under deciduous trees in moist, well-drained soil. Foxgloves are biennial, so you may not get flowers the same year you plant them - don't worry, they'll burst into life the following spring! Deadhead them after flowering to get a second flush of blooms, and cut the dead stems down to the ground in late autumn. Foxgloves are easy to care for and don't need feeding. Just water them well when you first plant them, and they'll develop drought tolerance once established.