10 Fresh Planting Ideas for Lavender

by Alison North
Lavender is an essential for cosy cottage garden borders and a classic partner for roses, but this versatile plant has a place in contemporary garden styles too - it pairs perfectly with sleek contemporary landscaping materials, softening edges and complementing on-trend whites and greys. Whatever your style, we bet there's a place in your garden for lavender. It's tough and hardy, loved by bees and there's nothing in the world like that smell, whether it takes you back to an English country garden or a Mediterranean villa.

If you're looking for a fresh way to incorporate lavender into your garden, take a look at our ten favourite ideas.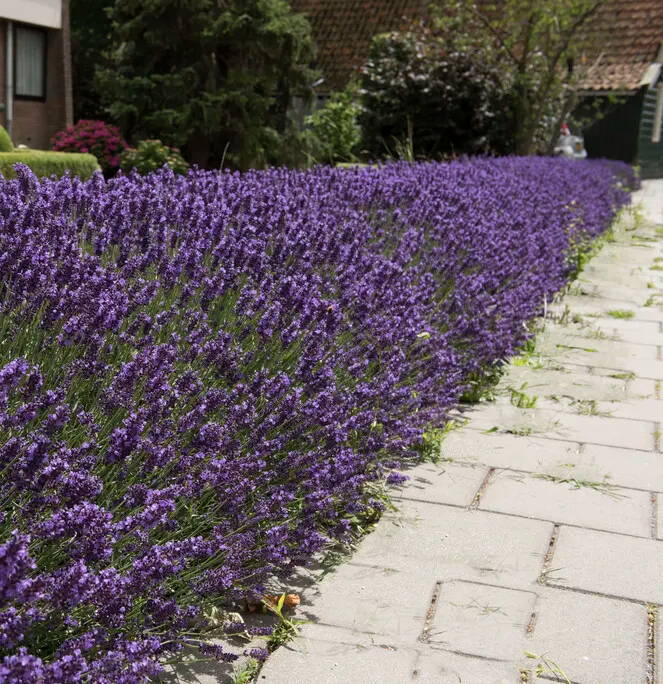 Low growing lavenders are the ideal way to soften the transition from borders to paths or patios, releasing a glorious waft of fragrance whenever you brush past. Plant your lavenders about 30cm from the edge and they'll quickly grow into gently swaying mounds of foliage and flowers to blur those blunt edges. You can leave it to spread naturally or clip it into more geometric shapes. We think lavender goes particularly well with light coloured gravel, concrete or flagstones. Top tip: plant symetrically along either side of a path for a professional look.
2. Mediterranean Patio Pots 
Lavender is a great choice for a patio and grows happily in pots. Choose a sheltered spot with plenty of sun, positioned near your seating area for maximum impact. Classic blue or natural brown terracotta pots of different sizes look great grouped together, or try square planters in contemporary shades of black, white and grey. Top tip: Lavender needs well draining soil, so choose a large container (30-45cm deep is ideal) with a good drainage hole in the bottom.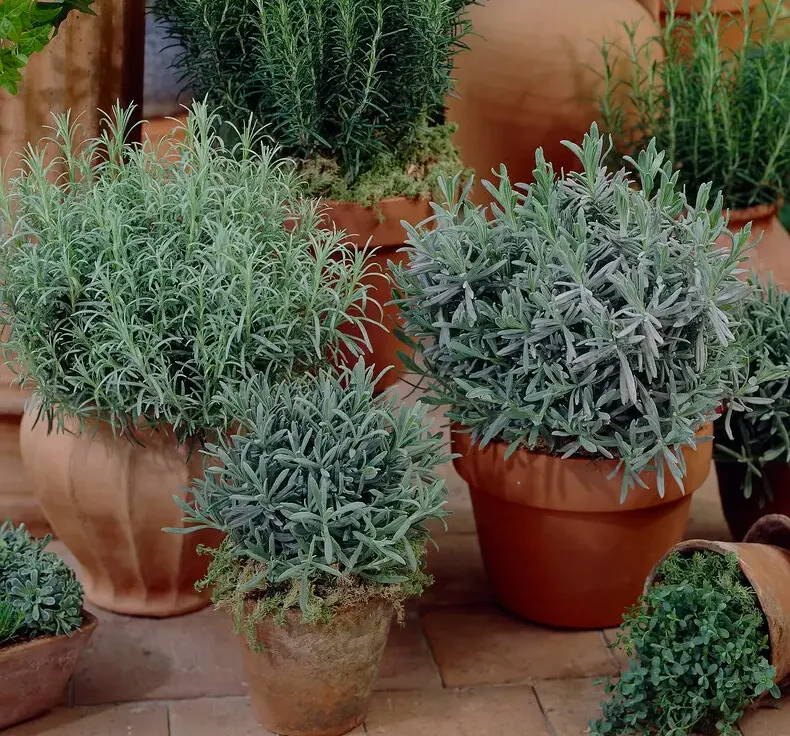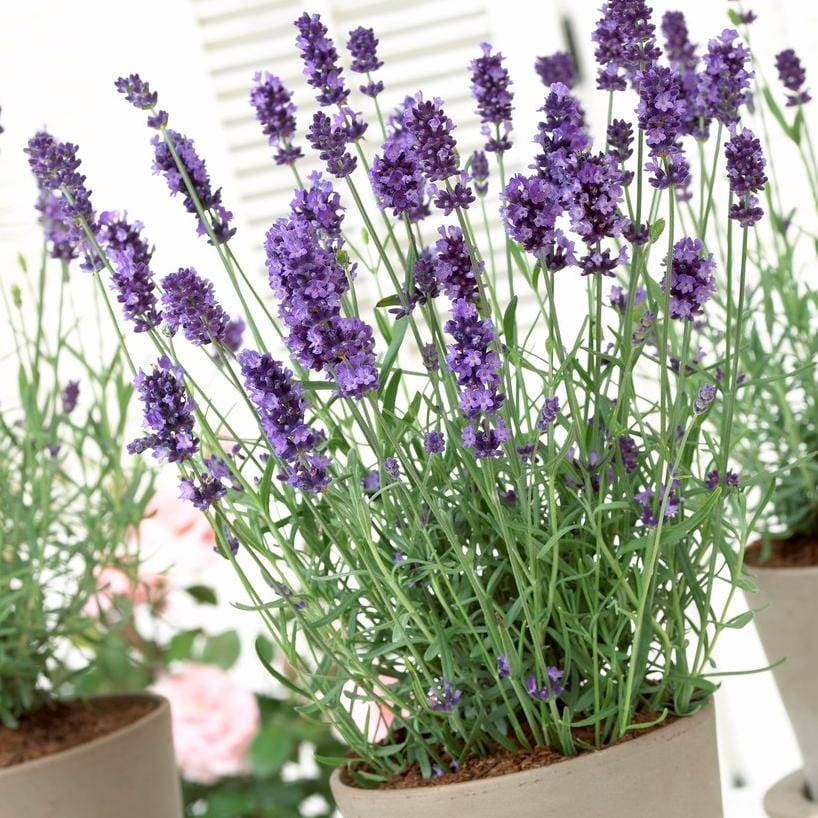 3. Fragrant Front Door
Create a welcoming entrance to your house with a large container of lavender on either side, which will make you smile (and sniff deeply!) every time you come home. Team it with a soft pink climbing rose around the door frame for extra cottage garden charm. The soft colour and bushy form of lavender also look great in window boxes on a balcony. Top tip: English lavender is the best choice for planting near windows and doors, being the most highly scented.
4. Veg Patch Protection
Lavender is a fantastic companion plant for vegetables, especially those that are prone to aphids and other sap-sucking insects. The strong smell of lavender deters these pests and prevents damage to your edible crops. As if this wasn't enough, lavender will attract bees and other insects to your veg patch which will pollinate your plants and give you a bigger crop. Personally I think planting lavender with brassicas or leafy veg like spinach and kale is great on an aesthetic level too. Top tip: plant lavender at the corners of your raised bed or alternate rows of veg and lavenders in a larger plot.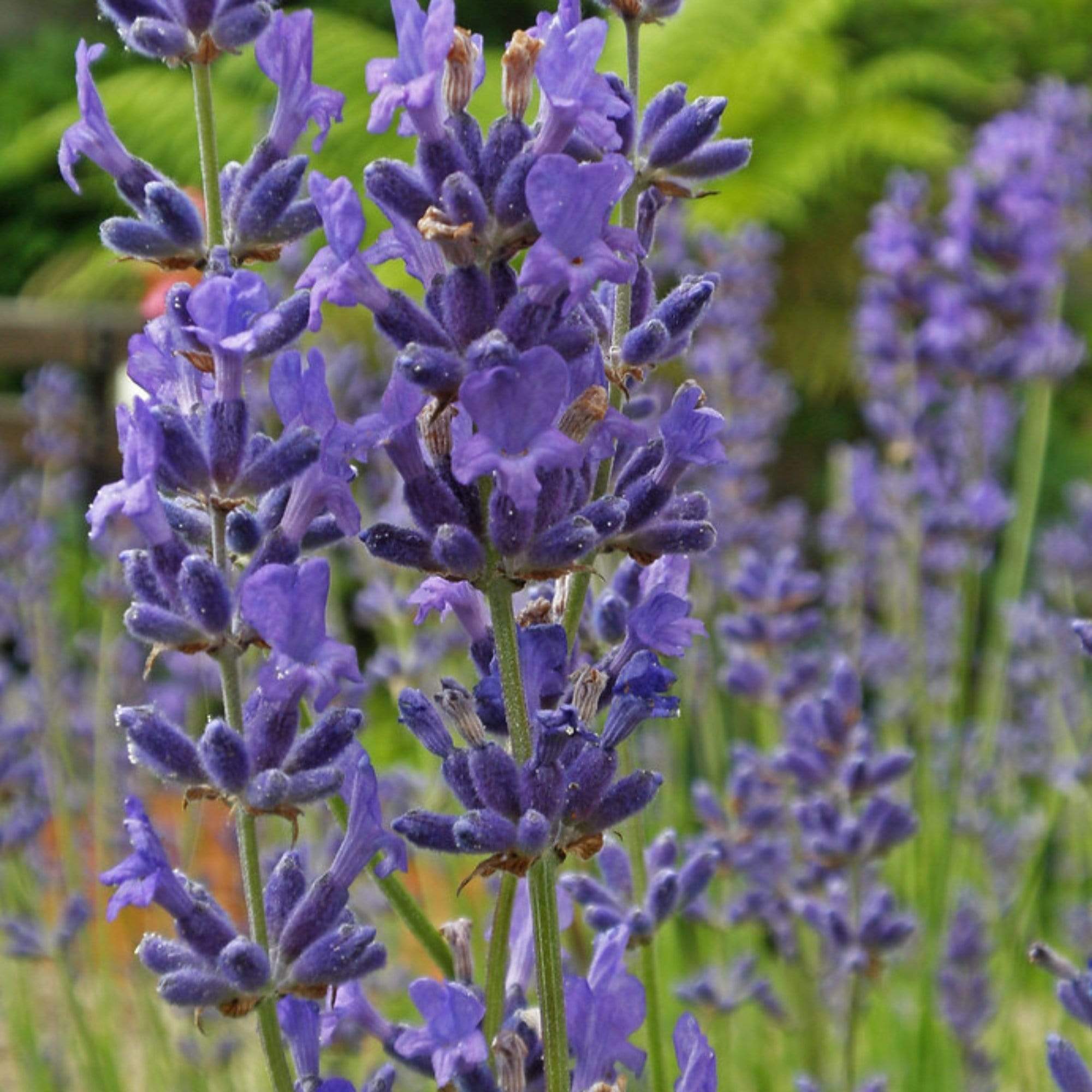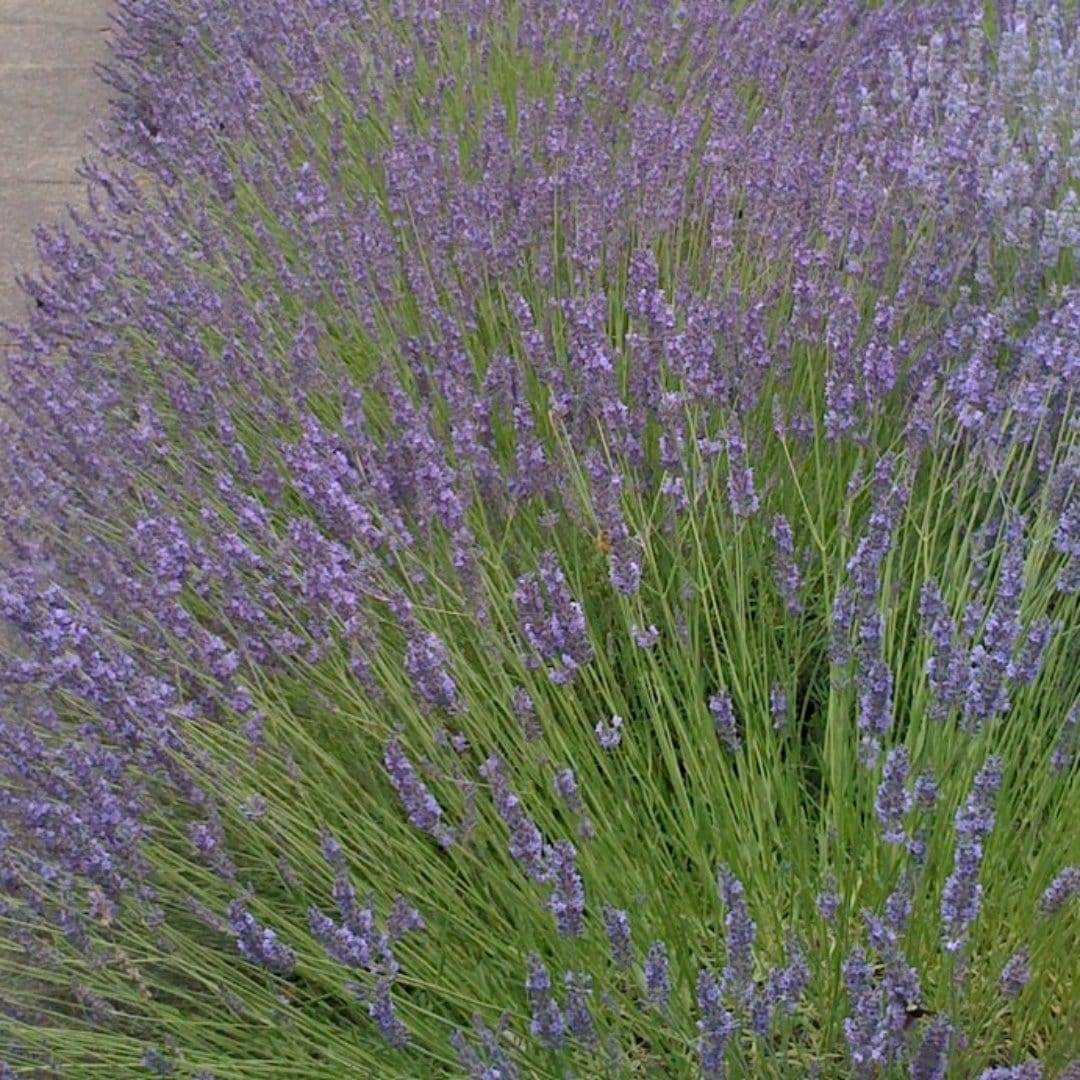 5. Go Wild
In recent years, planting a wildflower meadow has become increasingly popular, with many people either devoting a border to bee-friendly plants or even replacing their lawns. Lavenders fit well with this aesthetic, attracting insects and also adding colour to your meadow all year round when most annuals have finished. Top tip: Choose UK native wildflowers for a classic countryside look or go for more of a US Prairie vibe by pairing your lavenders with ornamental grasses, Echinaceas, Verbena and Geum.
6. Hedging your bets
Lavender makes a colourful, low maintenance and wildlife friendly alternative to hedging plants like Box and Laurel, growing in a more compact form and requiring less water. Think traditional Tudor knot gardens or the lawns of stately homes! Plant your lavenders densely and cut them back just like you would a Buxus hedge - in low growing lines or neat ball shapes. Top tip: To keep the lavenders to a clipped, formal shape, trim them back hard after flowering.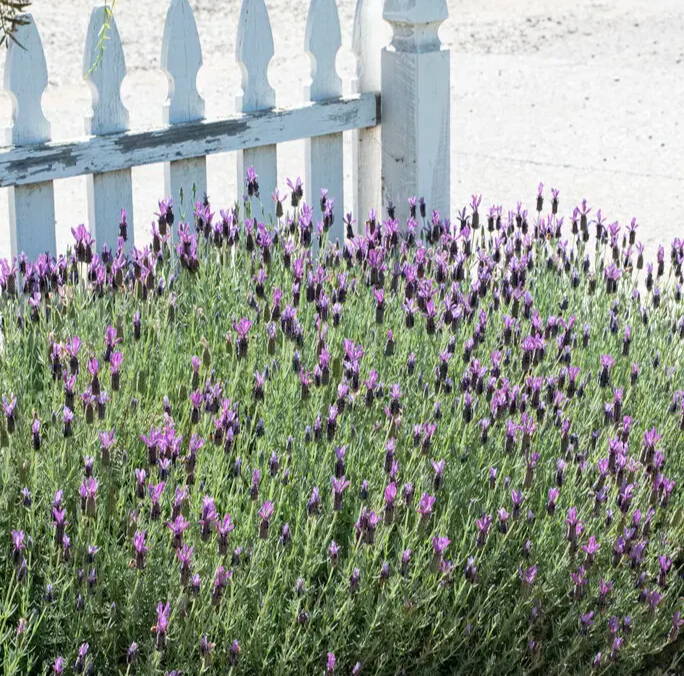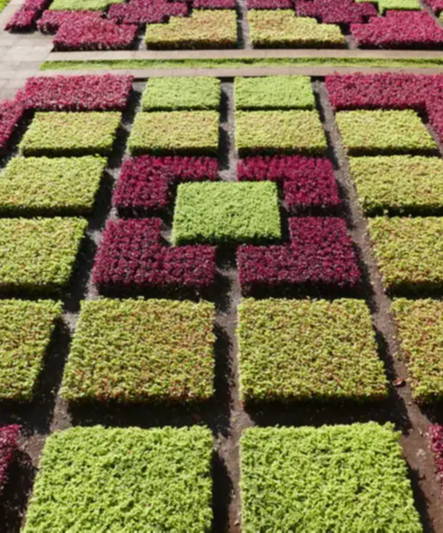 7. Geometric forms? Check!
I love the trend for alternating squares of low growing plants to form a chequerboard effect - it's a great alternative to the traditional lawn which is much better for wildlife and particularly suits a small urban garden. Choose a low growing or dwarf variety of lavender and plant densely in well defined squares, alternating these with contrasting plants such as Sedum and Creeping Thyme.
If you're gardening in a yard or on a balcony, you can get the geometric look by planting your lavenders in pots and clipping them into neat spheres. Top tip: Incorporate square flags into your chequerboard design for an unconventional walkway.
8. Soothe your senses
Sensory gardens are planted with an emphasis on fragrance, texture and sound to create a rich experience that's particularly enjoyable for people with additional needs, mental health conditions or visual and auditory impairments. Create a jumble of plants to discover, or theme separate areas for each sense, adding a water feature for bubbling or running sounds as well as tactile appeal. Our favourite plants for a sensory garden are:
Smell: Choose herbs like basil, mint, sage and lemon verbena which will release their scent when crushed between the fingers, as well as fragrant flowers like roses, jasmine and honeysuckle.
Touch: We love tactile plants such as soft-leaved Senecio and Salvia, bristly Rosemary and teasle. Tree bark is good to touch, as are smooth stones, spongy mosses and succulents.
Taste: Plant soft fruits that are easy to pick and eat raw, including raspberries, blueberries and strawberries, along with salad vegetables, peas and herbs.
Sight: Include plenty of colours and contrasts - the brighter the better! Try Echinacea, Leucanthemum, Osteospermum, poppies and alliums, making sure to vary heights and structures in your planting.
Sound: Ornamental grasses are great for creating movement and gentle swooshing sounds. Bamboo (plant it in pots) also makes a relaxing sound, as do areas of gravel which crunches when walked or wheeled on. Most important of all, include lots of bird feeders, to make sure your garden is full of birdsong.
Top tip: Choose lavenders with long stems which will rustle in the breeze and release their scent into the air - not to mention attracting all those buzzing insects.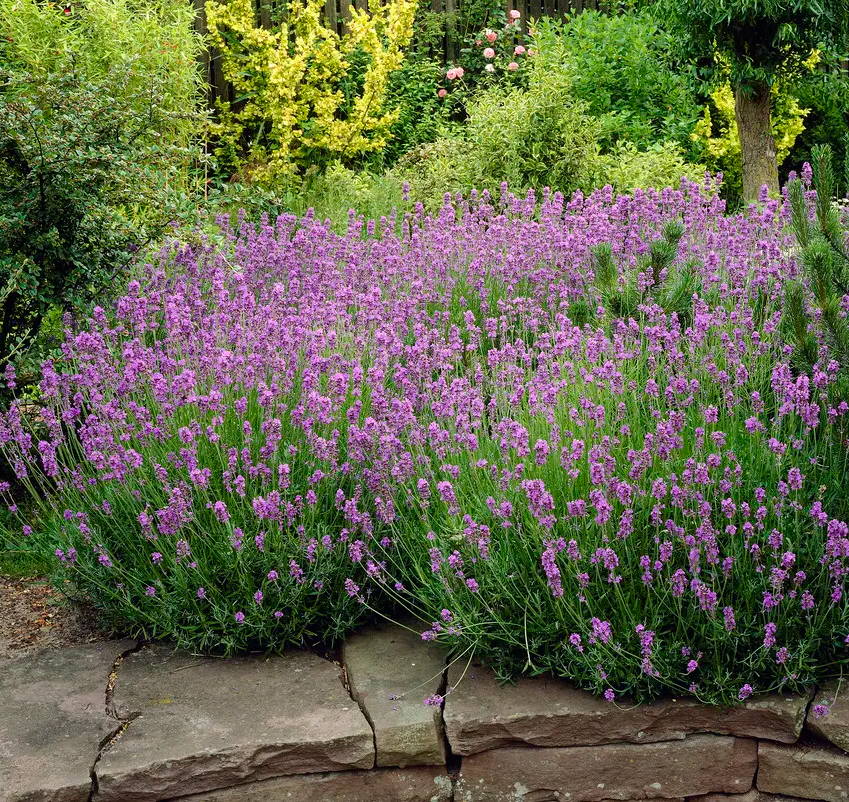 9. Tumbling through walls
If you have a stone garden wall or rockery, you have the makings of a gorgeous feature. Just plant lavenders next to the walls and allow them to grow through the cracks and tumble over the sides. The stone will retain heat from the sun and provide shelter, making this a perfect spot for lavenders to thrive and turning a dull boundary into a colourful talking point. Top tip: Plant flowering perennials behind the lavenders and you'll soon see them burst into life, pollinated by the bees that the lavender attracts.
10. Herb Garden 
No medieval Physick garden would have been complete without lavender - it was traditionally used to treat a myriad of ailments including headaches, skin rashes, digestive problems, insomnia and stress. Whether you're growing your own herbal remedies or just love the way they smell, lavender plants are an essential part of today's herb garden. Team it with other flowering herbs including chamomile, lemon balm, echinacea and mint for making herbal tea, or culinary herbs and edible flowers. As well as its uses in complementary medicine, lavender can also be dried and used for crafts, baking or fragrancing your home. Top tip: Traditionally, herb gardens were made with low growing lavenders as edging - this helped to attract pollinators and also kept away pests.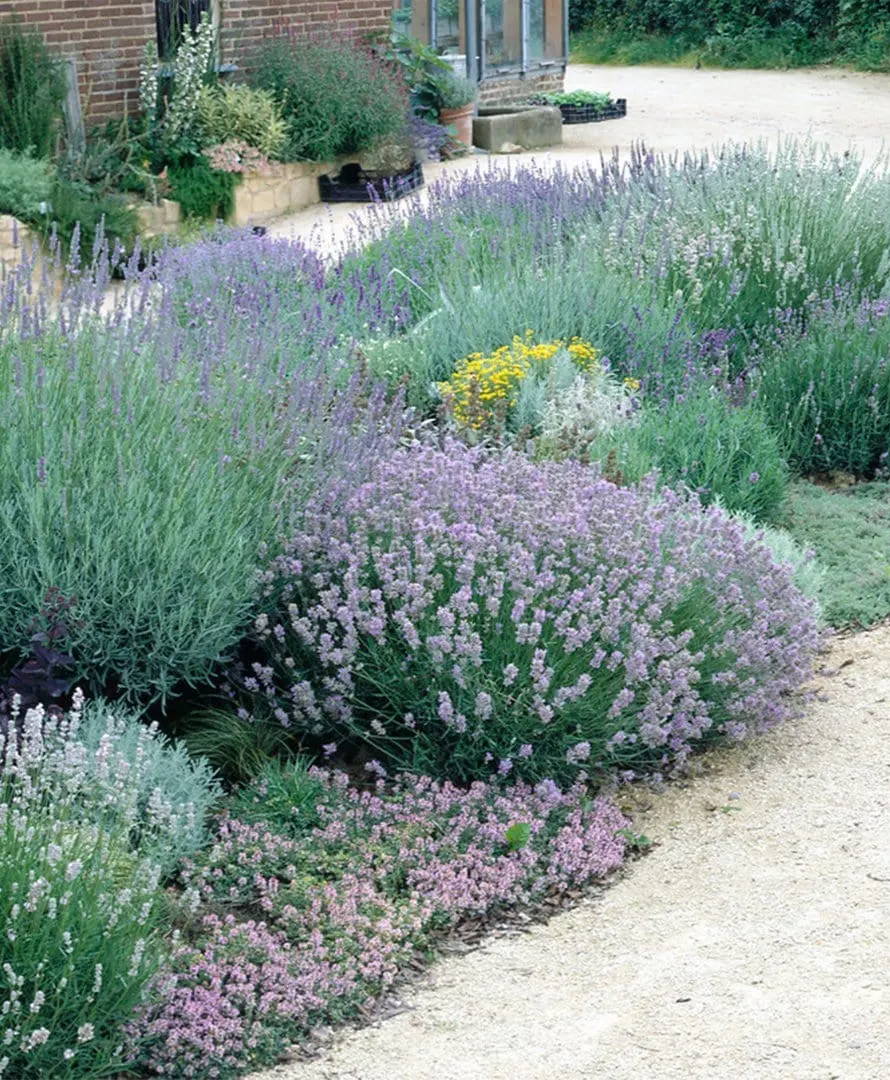 At Roots, we want you to get the best from your plants and enjoy your garden! If you have any questions at all about your plants, get in touch with us - our team of experts is always on hand to help.
Related posts