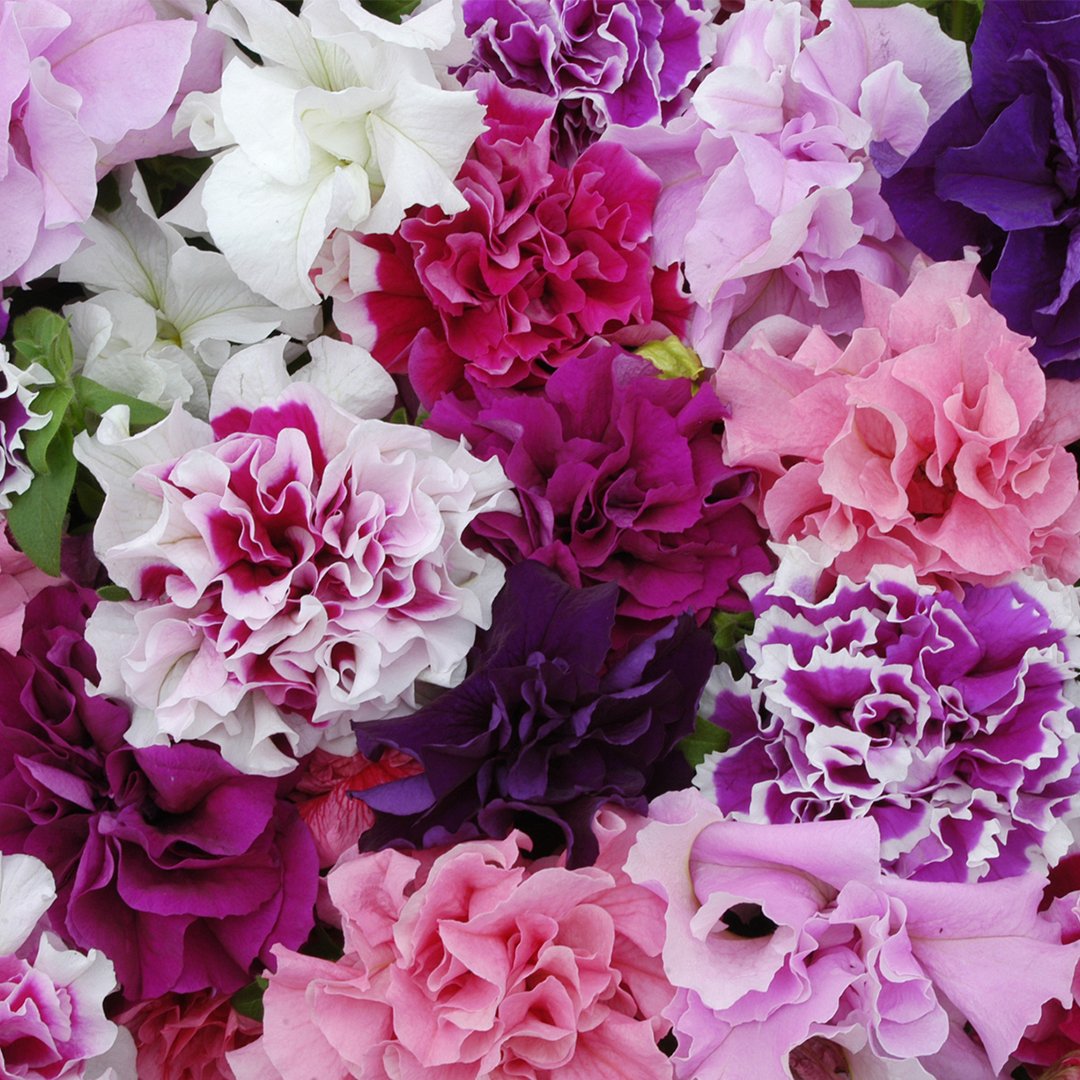 Petunia and Surfinia Plants
Can you imagine a summer garden without Petunias? These bright little blooms are easy to care for and produce dozens of flowers from June to October. Perfect in borders, pots and hanging baskets alike, it's no wonder they're so popular - read on for more tips on choosing, growing and caring for your Petunia and Surfinia plants.
Choose your Petunia and Surfinia Plants
What's the difference between Petunias and Surfinias? Surfinias are a variety of Petunia specially bred to trail and flower more profusely so they're perfect for hanging baskets. Try Snow, Sweet Pink or Purple Variegated - or mix it up for an explosion of colour. We love the warm tones of Petunia Pirouette, the ruffled double-blooms of Tumbelina and the adorable heart-shaped markings on Queen of Hearts.
Where to grow Petunias and Surfinias
Petunias will thrive in any well drained soil (they won't tolerate being soggy!) Position them in full sun for maximum flower production - partial shade is also fine. Petunias will quickly settle in and flower all summer in borders, beds, pots, hanging baskets (use 3-4 plants per 30cm basket) and window boxes.
Petunia and Surfinia Plant Care Tips
For best results, plant Petunias and Surfinias in early May after the last frosts and feed weekly with a slow release liquid fertiliser. Only occasional deadheading is required. For more Petunia and Surfinia tips and advice, see our Full Care Guide.
20cm Petunia 'Queen of Hearts' | 1L Pot
The Queen of Hearts for a royal display of colour
Beautiful soft yellow and hot pink striped flowers
Semi-trailing, perfect habit for pots and baskets
Annual bedding flowers from June all the way to October
Order now to secure spring delivery
20cm Petunia 'Miss Marvelous' | 1L Pot
Fill a basket with some truly marvellous petunias
Stunning deep purple flowers with white fringes
Semi-trailing, perfect habit for pots and baskets
Annual bedding flowers from June to October
Order now to secure spring delivery