10 Fruit Trees For Pots & Containers

 A SOLUTION FOR SMALL SPACES
There are many great reasons to grow fruit trees in pots, especially if space is tight in your garden or you're gardening on a balcony, a patio or in a yard. Trees in pots are less susceptible to pests and diseases, you can move them around according to where the sun is (or just because you want to) and of course you can always bring them indoors if the weather looks a little frosty. Whatever your reason, it's the ideal way to grow full sized fruit in small spaces.

Here we've collected our 10 favourite fruit trees that you can grow in pots - and some of them will surprise you!
1. Apple
There are many varieties of apple tree available in pot-sized versions - you should choose a variety on M27, M9 or M26 (dwarfing or semi dwarfing) rootstock, such as Braeburn, Bramley's Seedling or Ecolette.
These can be grown containers ideally around 50cm wide and deep - and the trees will not exceed 2m in height. For the ultimate space saver you could try growing a cordon tree in a pot - you can train your own or buy one ready trained.
Apple trees are hardy and will not need winter protection.
2. Cherry
Cherry trees are naturally compact, so any variety will thrive in a pot. Our favourites for container growing are Stella, Lapins and cordon-trained Sunburst.
Choose a pot that is at least 30cm deep and wide.
For the best crops, plant in a sunny spot. Your potted cherry may require some protection from very late frosts as this can damage the flowers. Exposure to late frosts won't cause lasting damage to the tree but will reduce the yield of fruit that year.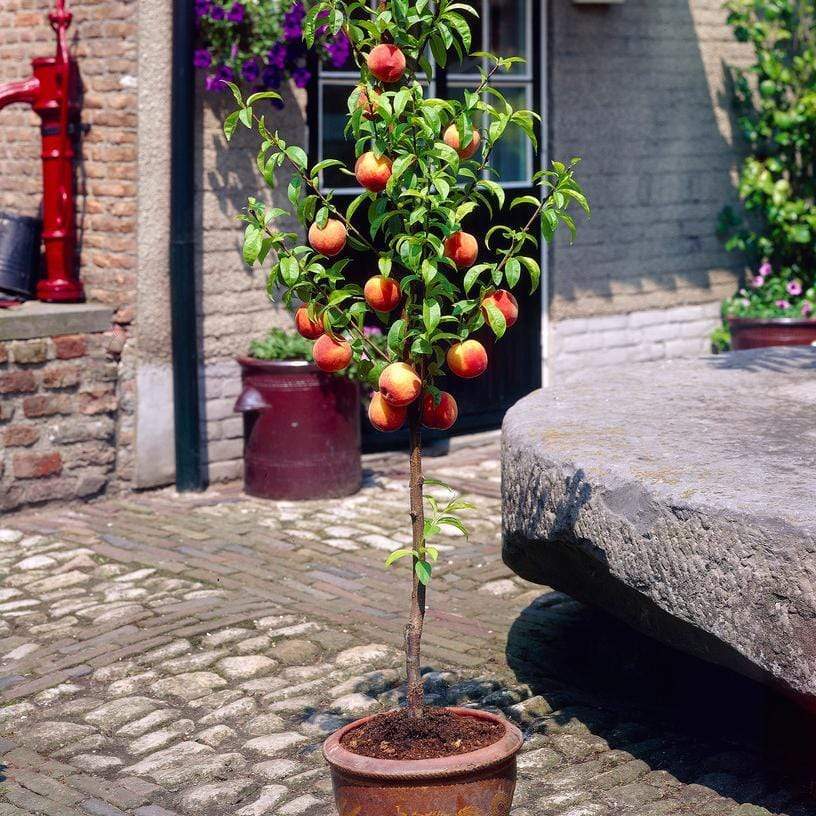 3. Peach
Peaches can be grown outdoors and also do well in a conservatory or greenhouse. They will only need winter protection if the frosts are late and the trees have already bloomed - this is easy to deal with by moving the pots indoors or wrapping the tree with fleece.
Choose a pot that is at least 30cm deep and wide.
The best peach varieties for pot growing are Avalon Pride or Peregrine, both available in patio versions.
4. Fig
If you thought figs only grew in hot countries, think again! They're actually really hardy and produce well in the UK - especially the Brown Turkey and Osbourne's Prolific varieties. They can tolerate temperatures down to -3 degrees, but if the forecast looks colder than that, you can wrap them in horticultural fleece.
Figs actually prefer to grow in pots rather than in the ground so they're ideal for patio growing. (Dalmatie and Ice Crystal are especially compact) Choose a pot which is at least 30cm deep and wide, repotting every 2-3 years.
5. Plum
With a patio trained Victoria Plum and cordon versions of both this and the lovely Opal variety, it couldn't be easier to grow plums in containers. If you've ever climbed a wobbling ladder to try and pick plums from the top of a regular sized tree, you'll appreciate what a good idea this is.
Choose a container that is at least 30cm deep and wide.
Plum trees are hardy and don't need winter protection except in cases of late frost when the blossom has already formed, then they can be wrapped in horticultural fleece.
6. Nectarine
Another surprising addition to the list, nectarines do really well in pots - just make sure they get plenty of sun!
Choose a pot that is at least 30cm deep and wide.
The Lord Napier and Madame Blanchett varieties are specially bred for great results in containers - just keep an eye out for hungry birds, and protect them from late frosts in the same way as peaches.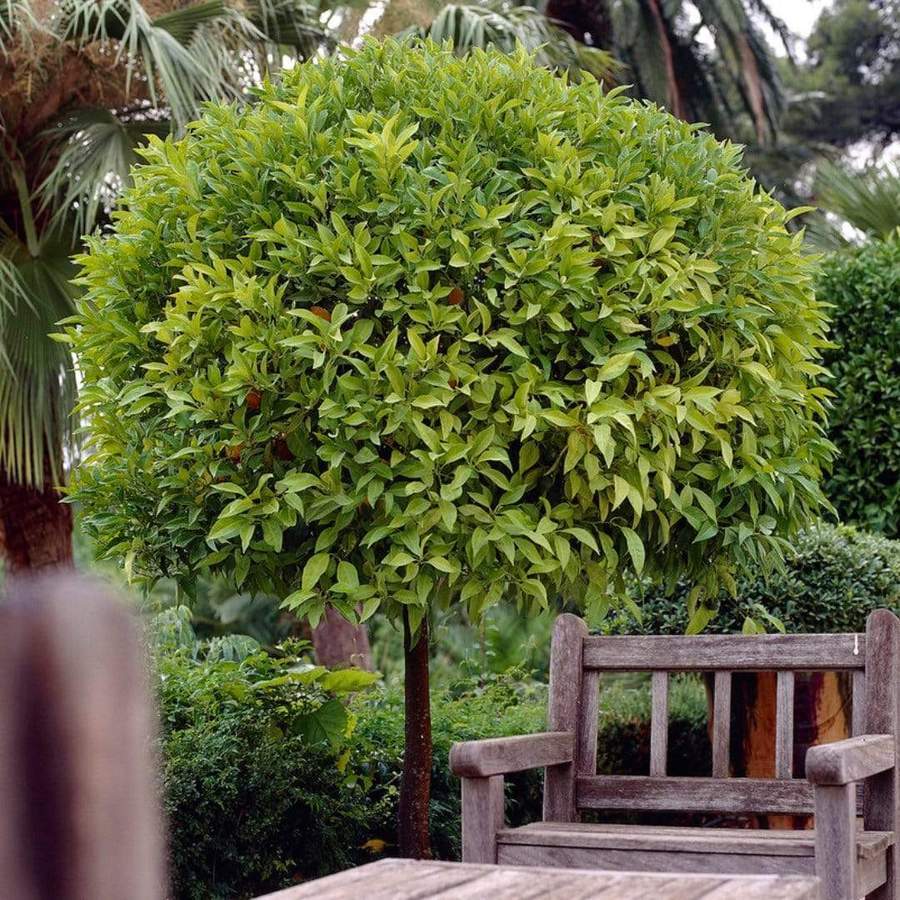 7. Orange
Citrus trees are most often found in greenhouses or conservatories here in the UK. But actually they do better if you put them outside during the warmer months, bringing them in or wrapping them with fleece for the winter.
Choose a pot that is at least 30cm deep and wide.
Our choice is this Bigaradier variety, which fruits after only 18 months.
8. Pear
Pear trees are amongst the loveliest looking species in spring, with clouds of blossom before you even think about the fruit!
Choose a pot that is at least 30cm deep and wide.
Conference is the UK's favourite, and for good reason given its melt-in-the-mouth flesh and versatility - choose the patio version for your pots.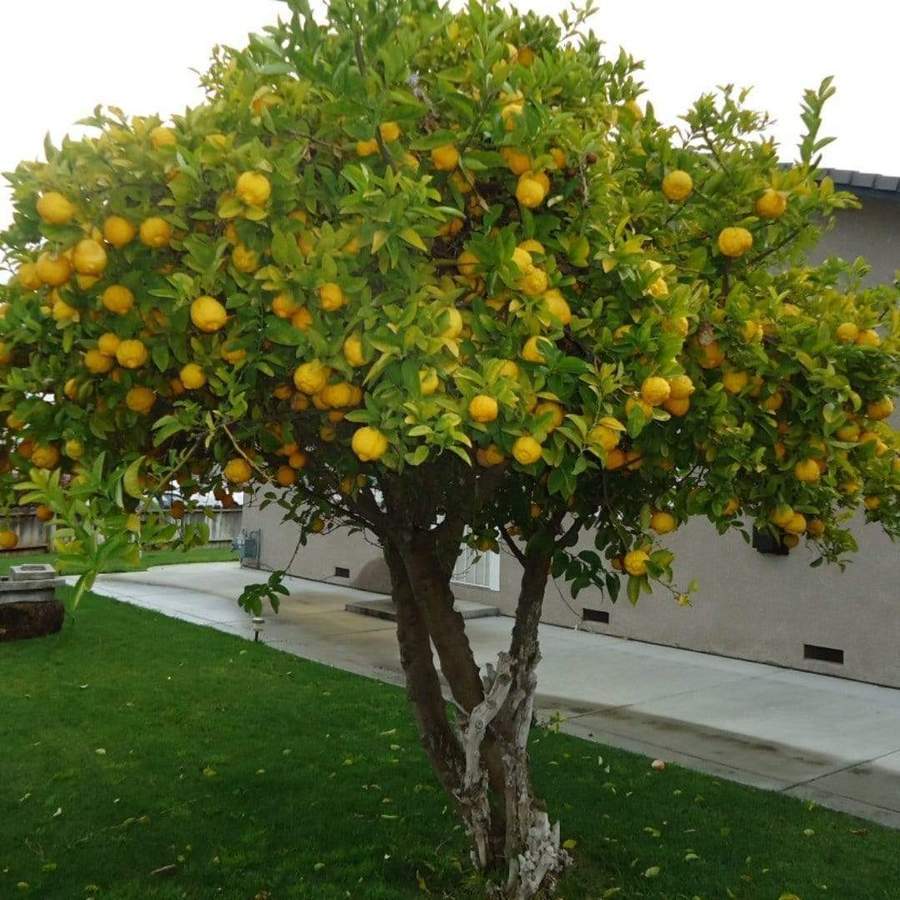 9. Lemon
Another highly attractive citrus tree which thrives in pots. Allow your potted lemon tree to soak up the sun outside throughout spring and summer, then overwinter it indoors or wrap with fleece.
Choose a pot that is at least 30cm deep and wide.
Eureka is a lovely variety which has been specially grafted for earlier flowers and fruit.
10. Apricot
Apricot trees do best in warmer areas of the UK, but if you grow them in pots that won't be a problem as you can move them indoors or wrap them when it gets frosty.
Choose a pot that is at least 30cm deep and wide.
Tomcot and Flavourcot are both available in patio versions and are self fertile, heavy croppers with an excellent flavour.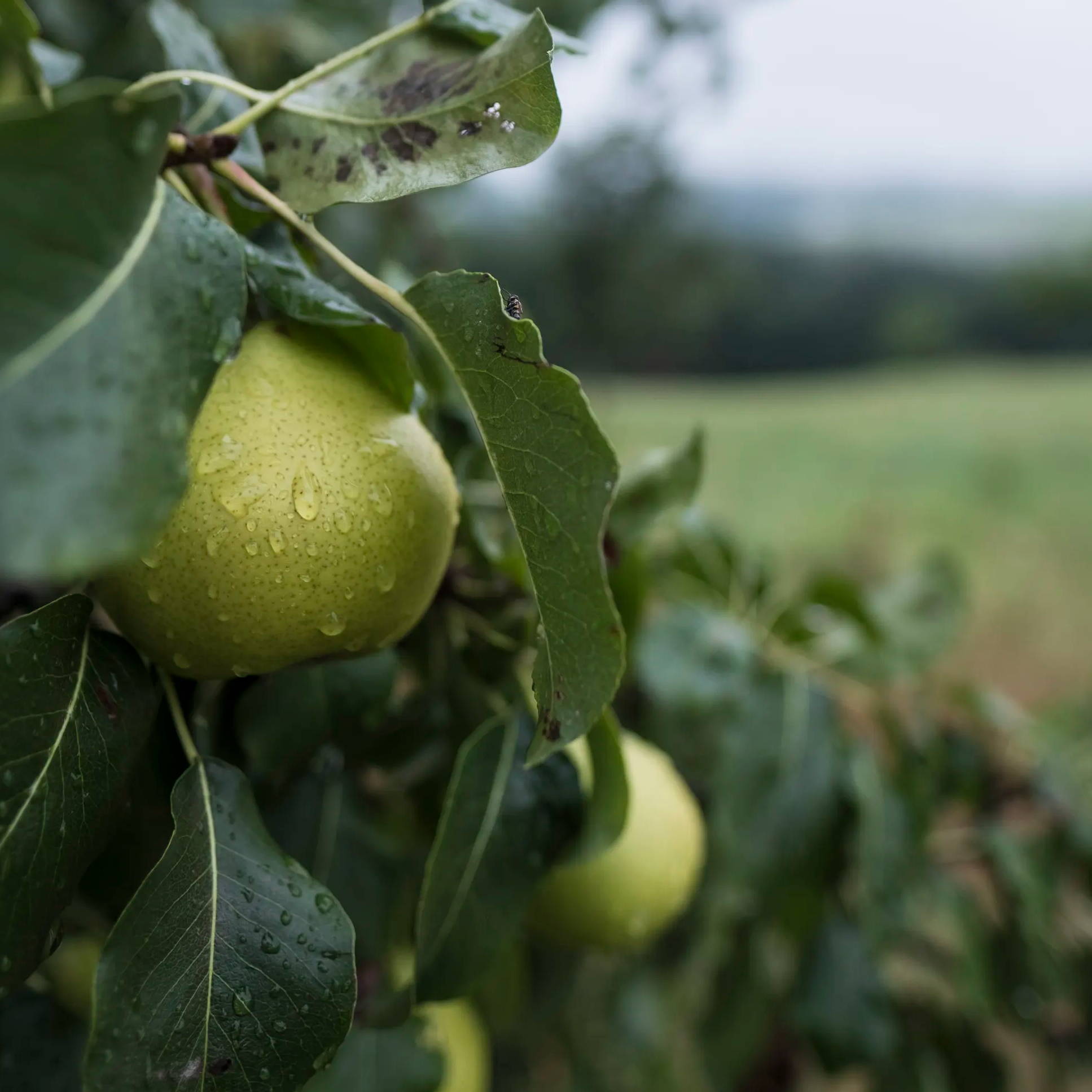 Look for a tree described as dwarfing, semi dwarfing or patio sized.
If you only have space for one tree, choose a self-fertile variety
You'll get a bigger crop from each tree if you plant two varieties from different pollination groups close together. You can check each tree's pollination group on our product pages.
Make sure your container is the largest you can find (at least 30cm wide and deep - larger if possible) and repot the tree every two to three years if needed.
Keep your potted trees well watered, as the rain doesn't reach them as easily
Feed your trees regularly to keep the nutrients in the pot topped up.
If you want to move your tree around more easily, place the pot on a plant stand with wheels.
Related posts