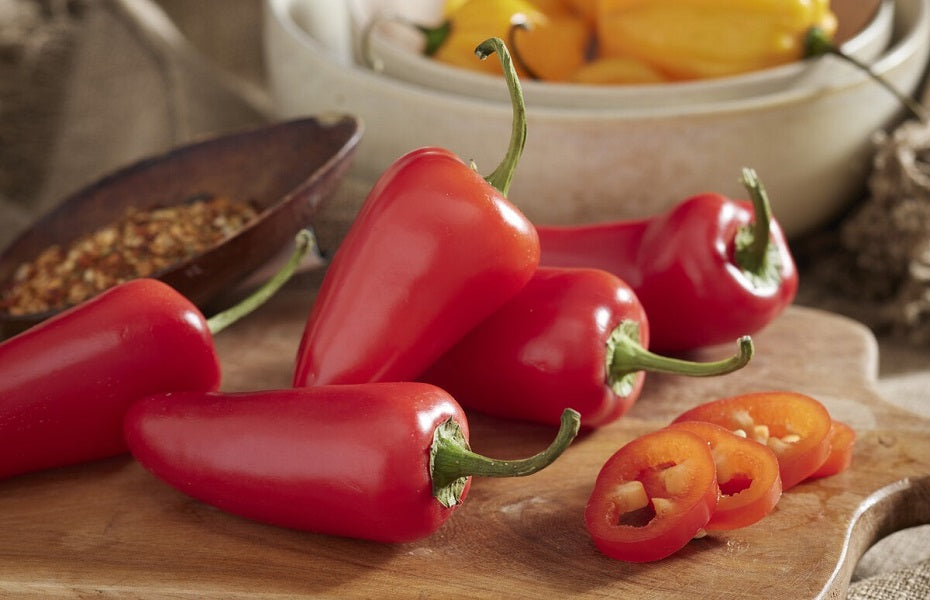 Chillies & Sweet Pepper Plants
Sweet peppers - or bell peppers - are a star ingredient in salads and stir-fries, with chillies turning up the heat in all their many varieties. Both are easy to grow in pots.
Choose your Chilli and Sweet Pepper Plants
Chillies are ranked for heat by the Scoville scale, with Cherry Bomb at the milder end (2,500-5000) and Orange Habanero at the fieriest (250,000-350,000!) Cayenne Long Slim is perfect for smoky Tex-Mex dishes, Birds Eye for South East Asian cuisine and Scotch Bonnet - Redor Yellow - is essential for Caribbean Jerk spice. Sweet pepper varieties Californian Wonder and Long Yellow Ringo are ideal for salads, grilling and stuffed peppers.
Where to grow your Chilli and Sweet Pepper Plants
Chillies and Peppers are compact enough to grow in pots on a warm windowsill, and they will thrive in a greenhouse, polytunnel or conservatory. We recommend you grow them indoors or undercover as these plants need consistent temperatures and full sun to produce fruit.
Chilli and Sweet Pepper Plant Care Tips
Plant your peppers in a mix of three parts compost to one part topsoil, and support them as they grow by tying to a small cane. Peppers and Chillies are ready to harvest after 60-90 days, when they have taken on their final colour. For more advice and tips on growing Chillies and Peppers, caring for your plants and harvesting all year round, see our Full Care Guide.
Organic 'Californian Wonder' Sweet Pepper Plants
Sweet and crunchy peppers grown in your garden
Prolific producer of succulently sweet peppers
Thick walls with a crisp, crunchy, texture
Perfect for stir-fries, stuffing and salads
Attractive fruit add interest to the garden