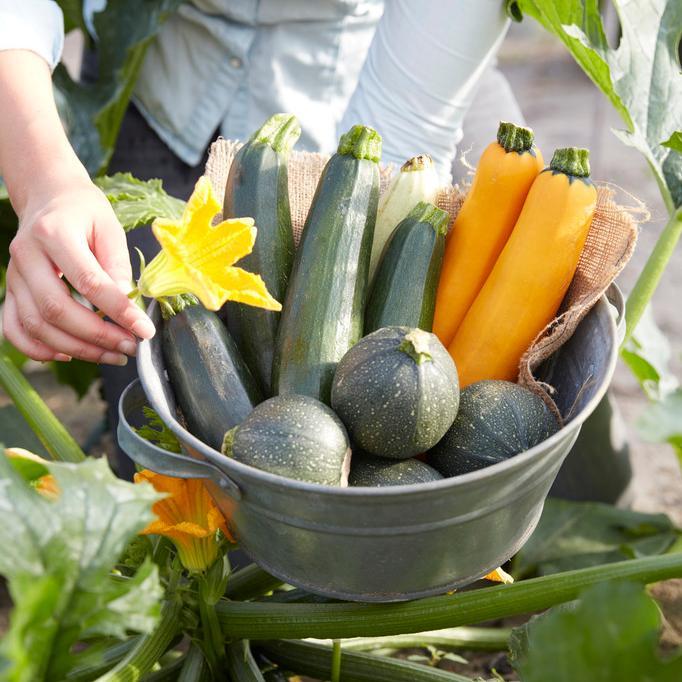 Courgette Plants
Growing courgettes - also known as zucchini - is easy and these healthy plants will produce baskets of tasty veg all summer! All of our courgette varieties are perfect for grilling, barbecuing, spiralizing, roasting or topping a pizza. Courgette flowers also make a sophisticated appetiser when stuffed with fresh ricotta and deep-fried. Grow courgettes in beds, pots or even on a trellis.
Where to grow your courgettes
Start off growing courgettes in pots on a warm windowsill, in a greenhouse or conservatory. When the first frosts have passed, you can plant them out in raised beds, borders or containers with plenty of space between plants to allow for spreading. Climbing courgette Tromboncino Albenga can even be trained to grow up a trellis. Courgettes prefer a sunny, sheltered spot in the garden and need daily watering in hot weather.
Courgette plant care tips
Harvest Green Bush and Atena Polka when the fruits are at least 8cm long. Make sure to pick them regularly or you'll end up with marrows! Pick round courgettes Tondo Chiara di Nizza when they're about 7-8cm across for the best flavour, and Tromboncino Albenga when they reach approximately 25cm. Slice across the fruit's stalk with a knife to cut your fresh courgettes. For more advice on planting, growing and harvesting courgettes, check out our full guide.
Organic 'Green Bush' Courgette Plants
The classic Courgette in abundance
Classic courgette shape with sublime flavour
A reliable and heavy cropper
Pick fruit regularly for a better harvest all summer
More compact growth–requires less space