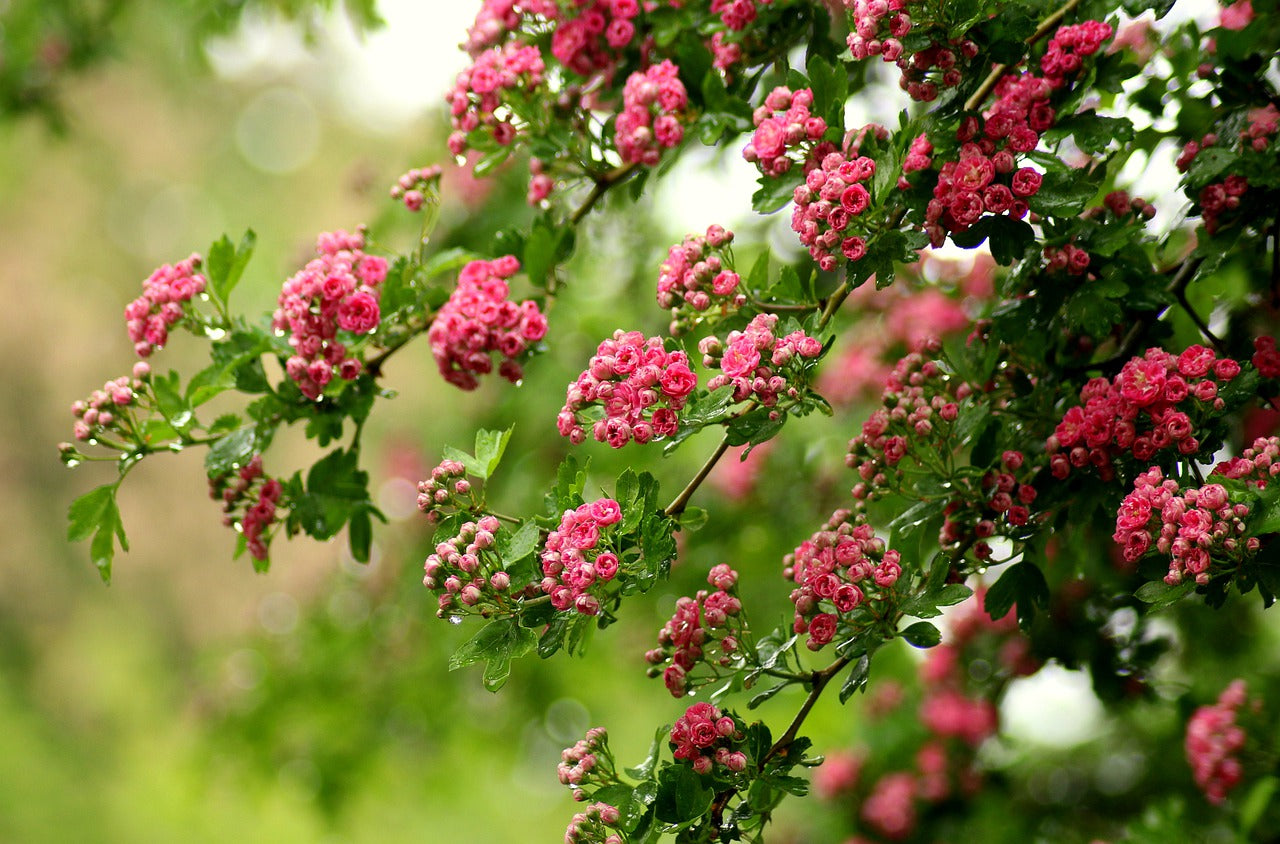 Hawthorn Trees
One of the best native trees for wildlife, a single hawthorn tree can support 149 different insect species! Hawthorns are true four season trees, with glossy foliage and masses of flowers to attract bees in May and June. Red haws appear in the autumn which are loved by birds including fieldfares and redwings. John, our grower in the New Forest, has been growing hawthorn trees for over fifty years and selected the best performing varieties for us. Grown in the field in the traditional way, our hawthorns are incredibly hardy and tolerant of almost all conditions, making them a solid choice for any UK garden.
Which hawthorn tree is best for your garden?
Hawthorns are famed for their blossom, and Crimson Cloud Hawthorn is one of the best, with spectacular flowers turning from crimson red through pink to white, while Paul's Scarlet has deep red flowers and the Double White Hawthorn Tree gives you those familiar white clouds. For smaller gardens, we love the award winning Broad leaved Cockspur, which grows to just 5x4m. It's also one of the best for fruit, with bright crimson haws that stick around well into winter. For autumn colour, the Hybrid Cockspur is hard to beat, with a glorious range of red, purple and orange leaves. Find the right hawthorn for you with our easy guide.
What grows well with hawthorns?
A hawthorn tree can be the focal point of your wildlife friendly garden or a companion for other beautiful native woodland trees like oaks, willows and rowans. This is also one of the best trees you can plant for native wildlife - bees love the flowers and birds come for the all-you-can-eat fruit buffet in autumn - the sharp thorns also give them a safe nesting place amongst its branches. For something equally wildlife-friendly but smaller, try a crabapple tree or explore more UK native trees.
Growers' tips
Hawthorn trees are able to thrive in any type of soil (even chalk) as long as it's fertile and well drained. You'll get the best flowers by planting your hawthorn in full sun, but they grow perfectly well in partial shade too. As hawthorn trees have naturally well-shaped canopies, they don't need much pruning. Simply check your tree in late winter or early spring and prune out any dead, damaged, diseased or crossing branches. Water your hawthorn tree well for the first few months, then during hot and dry weather for the first couple of years. After that your established tree will have developed its drought tolerance and will get by on natural rainwater.
Red Hawthorn Tree | Crataegus laevigata 'Paul's Scarlet'
Crimson flowered, award winning native Hawthorn
Explodes with crimson double flowers in spring
Compact and easy to care for - ideal for smaller gardens
A wildlife magnet, attracting bees and birds
RHS Award of Garden Merit winner